Kingdoms
Stage Main Stage 45 min. Premiere: 05.03.2022 From age of 3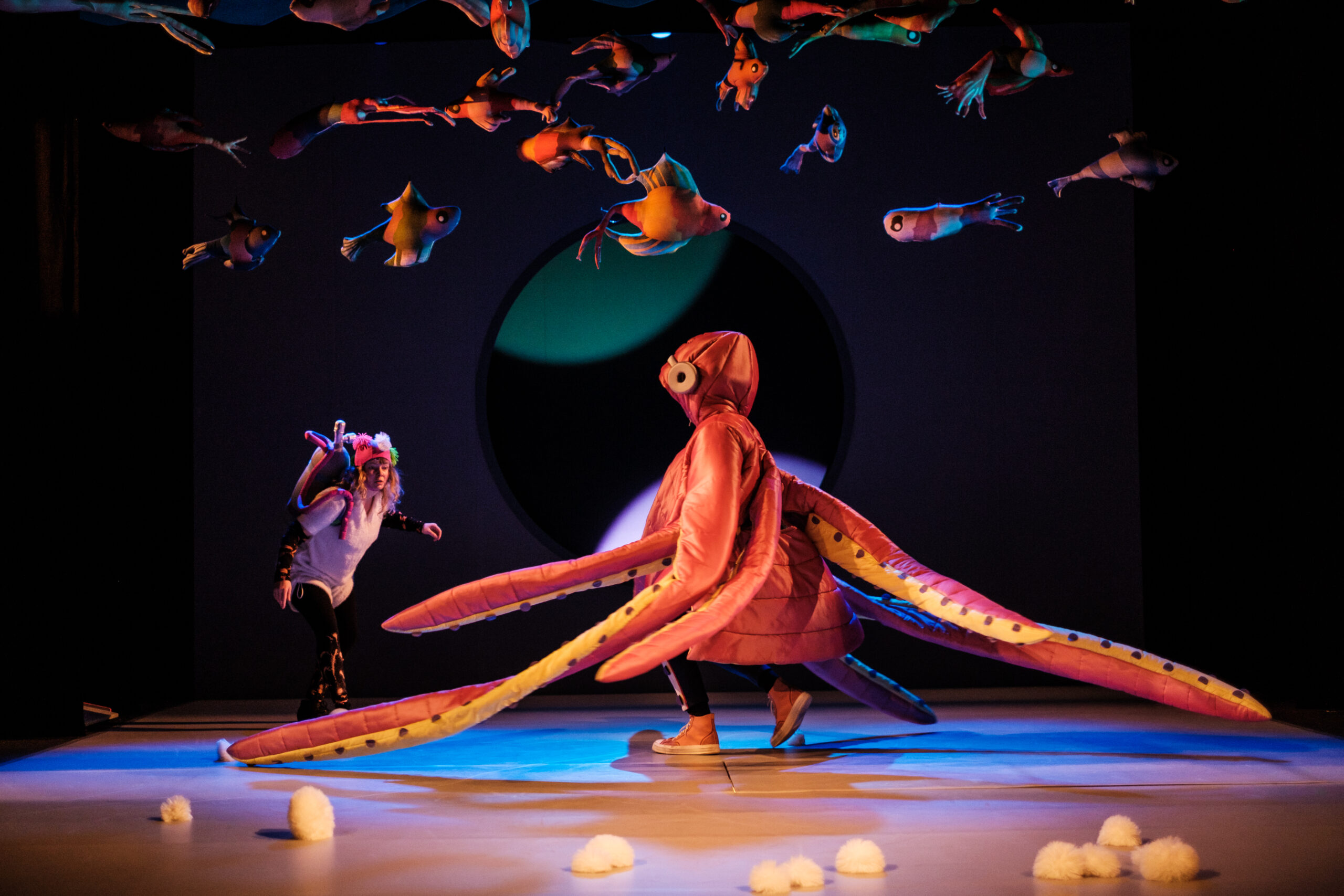 Description
This performance by Marta Stańczyk – an author associated with Teatr 21 diagnosed as being on the autistic spectrum – is based on stories created during the first wave of the recent pandemic. This is therefore the first show in the history of Teatr Guliwer created on the basis of a text written by a neurodiverse person. It consists of several simple stories without metaphors, hidden layers or psychological character descriptions. The text comes with illustrations which show the female protagonists' adventures. These source materials inspired the show creators to look at the world experienced by different creatures as separate kingdoms. The narrative is an excuse to carefully observe our planet, in order to recognize the diverse needs and natures of its occupants.
This show features active participation by  Marta Stańczyk, who becomes Eustachia – the queen of Planet Venus.
Description:
Eustachia – the Queen of Venus has for a long time liked to observe the Earth and its inhabitants. She was thrilled to see so many creatures living here, each one with a space of their own. Now the Queen is observing two nuns called Bernadette and Klementyna. One day, they close their door with a key and set off on an adventure on a hot air balloon. Riding along with them is a wise sheep called Kostka. They rise above the clouds and feel as happy as birds. As they land in a park, they notice a famous peacock called Walerian who watches over people's dreams, a creature who will reappear many times in their future. They then board a deep sea submarine and lower themselves down to the bottom of the Pacific Ocean. There, they dance with fish, while Kostka the sheep meets Cyryl the octopus. They fall in love and combine their worlds into a single kingdom. The two nuns want to constantly keep moving and have lots of adventures. Even when at home, they study the cosmos via a telescope. This is how they come across Eustachia – the Queen of Venus, and become friends with her.
This performance includes the facility of moving to a relaxation room in order to restore calm and emotional balance.
Tekst: Marta Stańczyk
Reżyseria: Justyna Sobczyk
Współpraca reżyserska, choreografia: Iza Chlewińska
Dramaturgia: Justyna Czarnota
Scenografia: Magdalena Łazarczyk
Kostiumy, lalki: Wisła Nicieja
Muzyka: Sebastian Świąder
Wideo: Jan Domicz
Światło: Sebastian Klim
Obsada: Elżbieta Pejko, Anna Przygoda, Honorata Zajączkowska, Marta Stańczyk (w nagraniu), Tomasz Kowol, Adam Wnuczko
Inspicjentka: Małgorzata Grabara
Gallery